GNAS Archery Courses
We will be running two GNAS approved Archery courses over the April/May/June period. You do not need any previous Archery experience and you don't need any equipment as all will be provided for you.
The course runs over 4 seperate saturdays (with a final catch up day incase you miss one)
At the end of the course you will recieve a Certificate of qualification.
Each course can take a maximum of ten people and the minimum age is ten years old.
The cost is £60 per person (17 year old and over) £40 per person (16 year old and under)
the dates are as follows:
Course 1
Saturday 14 April, Saturday 21 April, Saturday 28 April, Sat 5 May (Catch up Saturday 12 May)
Course 2
Saturday 26 May, Saturday 2 June, Saturday 9 June, Saturday 16 June (Catch up 23 June)
To book contact us by email or phone, places on the courses will be allocated on a first come first served basis.
Introduction and taster session
Introduction
If you want to try Archery but are new to the sport then come along for an Archery Introduction. They last for an Hour and a Half, all equipment is provided and your experienced instructor will guide you through the basics you need to use a bow safely. by the end of the session you will have the knowledge you need to shoot on our Archery range safely. Once you have completed your introduction successfully you will be able to hire equipment from us. The Introduction costs £25.00 per adult and £20.00 per under 18. The hire cost for a bow is £10.00 per day.
Taster Session
If you want to see what target sports are all about the why not try a taster session. The session lasts for an hour and a half and covers Air Rifle, Airsoft Pistol and Archery. The taster session is designed to let you 'have a go' without going into the detail of a full introduction. The price for a taster session is £25.00 for an adult and £20.00 for an under 18.
For more information or to book an introduction or taster session call, email or pop in for a visit.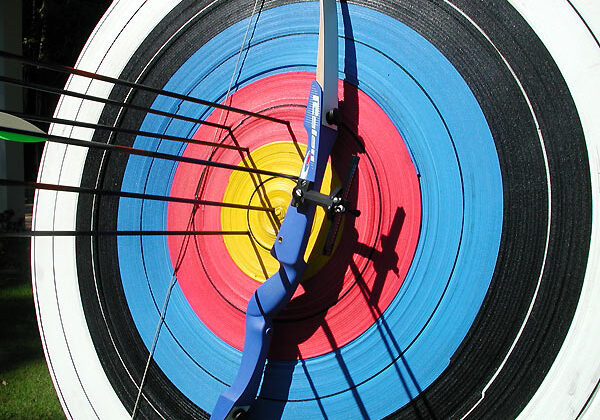 Archery for All
At Thurlaston Airgun and Archery Centre, we aim to offer our facilities to the widest possible audiance, therefore, whether you are an experienced Archer or have never held a bow before, we can provide you with the space, equipment and most importantly the right level of assistance to allow you to enjoy your archery to its fullest.
If you are an experienced Archer, you can 'Pay to Play' on our archery range out to 100 yards.
Give us a call or drop us an email for more information. As with the Airgun and Airsoft ranges, the archery range is open 7 days a week.